What is a cleaning business?
When we talk about "Cleaning Services," we're referring to a company that charges customers to clean their homes, apartments, businesses, and other buildings, as well as their personal belongings like carpets, couches, curtains, and many more.
When you clean something, what exactly do you accomplish?
The primary responsibility of a Cleaner in the service business is to maintain a spotless and hygienic work environment. They do different tasks such as sweeping the floor or dusting the furniture, cleaning personal materials, and many more.
Do you think the cleaning business is a viable profession?
If you want to Self employment, a cleaning business is a good idea to start if you have a solid business plan. Besides, it will help you cover an untapped market segment. At present, cleaning services are an absolute necessity and guarantee steady revenue streams for the owners.
What skills do a cleaner need?
As a cleaning business owner, you have to find the following skills in your employees:
Patience
The ability to remain calm in stressful situations.
The ability to work on your own.
Customer service skills.
Pay attention to detail.
Knowledge of public safety and security.
Physical fitness and endurance.
The ability to organize your time and workload.
A desire to help people.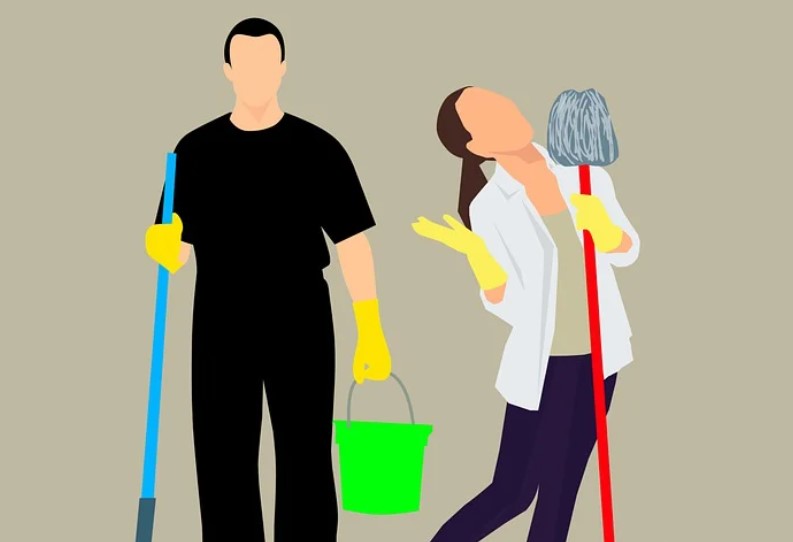 Social media post ideas for cleaning businesses.
 As you plan to establish a cleaning business, here you will get some Social media post ideas for a cleaning business. So, let's explore them in detail.
Make a Company overview on the website. 
You have to create a website for your cleaning business. If you aren't already, you should begin doing this. Blogging helps with search engine optimization and provides valuable content for interacting with your audience. Here you have to mention your services along with time and price.
Share your work Atmosphere
You have to make a friendly working environment in the workplace so that employees can work a lot to help you. In terms of cleaning services, working together is a blast for you. That's why it's a good idea to highlight that fact across your company's social media channels.
You can post behind-the-scenes content; this sharing allows you to establish a more personal connection with your readers. People are drawn to the brand because they believe it stands for more than just the products or services it sells.
Business and Economic Reports
Keep yourself constantly updated about the market trends and spread the current development you bring to your organization. You might provide up-to-date data, report on developments like disruptions in the supply chain, and explain how the business world is addressing concerns like environmental impact.
Introduce Your Collaborators/partners
 If your customers were interested in learning more about your company's community involvement, what would you tell them? One possibility is that you collaborate with a group like Cleaning for a Reason.
You have to Show customers that you're caring brand is beneficial for everyone involved, even while you're not collaborating with them for the PR. Furthermore, uplifting tales are always popular.
Take care of frequently asked questions.
Try to answer all the queries new customers ask. You may also find that most of your time is spent responding to questions from already-established clientele.
The answers to these questions can be pretty helpful if posted to a website and social media pages. This will save you and your team time by reducing the number of questions you have to field.
Make social media profile
A social media profile is now a must for every organization. So you must ensure your presence on every possible platform like – Facebook, Youtube, Twitter, Instagram, Pinterest, and linked in. You can post on these platforms –
Weekly objectives
Aims for the Month
Objectives over the next three months
Purposes for the Year
A few examples of simple but effective social media cleansing objectives include the following:
a)         Gaining ten new Facebook likes or followers every week,
 b)        Forty new likes or followers every month,
c)         one hundred twenty new likes or followers every three months,
d)         And four hundred eighty new likes or followers every Year.
e)         Facebook Users Click on your cleaning website:
15 dollars each week,
Sixty dollars per Month,
One hundred eighty dollars per quarter, and
720 dollars per Year.
Interactions on Facebook: o 5 per week / 20 per Month
Make the best use of platforms for your business.
Facebook, Twitter, Instagram, LinkedIn, and TikTok are all fantastic social networking sites, but you may not be a good fit for all of them.
Therefore, rather than spreading yourself too thin with mediocre content, you should concentrate on expanding your cleaning-related social media accounts by posting engaging content.
Have most of your rivals succeeded on social media platforms like Facebook and Instagram? If that's the case, those are the two bases to explore first.
Make updates that your customers will find helpful.
Social media marketing for a cleaning service requires you to provide content that interests your customers and promotes your business.
Posting five to seven times a week on social media is considered the norm. Look at some potential instances of what you could say:
i.          Promote your client referral offer,
ii.         Company news, events, milestones, and before-and-after photographs of your best work,
iii.        New cleaners, employee anniversaries,
iv.        Cleaning hacks,
V.        Your blogs (if relevant),
vi.        A company volunteers activity,
vii.       Deals, exclusive offers, great reviews, testimonials, and more.
•           Host Contests and Special Deals
If you want to attract more readers, you should think about doing more than just posting relevant information. After all, everybody likes good sweepstakes and a good insider bargain.
Prospective customers are more likely to buy from you if they know what they're getting, and current customers will shell out more cash for your upsells if they're impressed by your work.
Picture-sharing options include:
Office events (Christmas parties, company barbecues, etc.)
New hire photos Employee of the month photos Before and after pictures of your most excellent work
•           Combine organic social media posts with paid advertising
It is common practice to use organic posts to strengthen bonds with preexisting customers and attract the attention of prospects that have just become aware of your brand.
Most often, adverts on social media are used to generate leads for further investigation into a company's potential client base.
Using social media ads to back up your organic postings is a terrific strategy, provided it fits within your goals and budget.
•           Advertise your cleaning services using short videos.
You have to make quick 1-3 minute movies/ videos about your cleaning service are a great addition to the helpful content and company photographs you already share on social media.
Request positive feedback from your most satisfied customers.
You might be surprised to learn that unhappy customers are 21% more likely to leave a review than satisfied ones. As a side note, 63.6% of shoppers claim they read reviews before making a purchase.
That is to say, before committing to a purchase, most prospects will look at your evaluations, and negative reviews will be written more frequently than positive ones.
Please answer private messages within 24 hours.
In the service industry, speed is essential; therefore, ensure you answer ALL of your direct messages within 24 hours. This demonstrates that you run an honest, well-run business that values their satisfaction.
Inquiries about your services are a common occurrence while dealing with leads. The time to win them over is now. Besides, you can use chatbots, a fantastic method to keep up with the situation.
That is to say, find out which hashtags are trending on your social media channels in your region, and then find creative ways to work them into your posts. Find out which hashtags are being used most frequently in your area.
Simple hashtags like-
 #cleaningbusiness,
 #housecleaning, or
#[yourcity][cleaningbusinessname] can do the trick.
Keep up with the newest social media developments and features.
As a cleaning service, your social media presence must keep abreast of new features and developments in the social media realm. Such as recent developments in social media or the most popular fads.
I recommend signing up for social media newsletters if you are new to social media or want to learn more. Keeping up with the news this way is probably the most straightforward option.