Supply chain management of the dairy industry:
Supply chain management is a process of managing the upstream & downstream value-added flow of materials.  It also supplies related information among suppliers, the company, resellers & final customers.
See the below figure:

                                                                                                     Figure: Supply Chain Management
Any dairy industry also follows the same supply chain management that we discussed in the above figure. At first, they should go for –
Suppliers: From the very beginning of any production, suppliers are the main person who helps a company produce its desired product. In the production of the dairy industry, we can see that there are a lot of suppliers who are ready to help.
Company: The company and suppliers have an inbound relationship. Because, whatever a company needs at the primary levels, suppliers give them that. After then, a company should go into production. In the case of Mondelez dairy, they do the same things. Let's see-
Collection of Raw material: As Mondelez dairy is a milk and dairy product processing company; they need a lot of milk for their production. Mondelez dairy has its own dairy farm. But these are not enough for meeting the market demand. So they need to collect more raw materials from outside of the farm. These raw materials are also collected from individual farmers. Mondelez dairy purchases low-fat milk at $5 and higher- fat at $8 per liter.
Product strategies: After the collection of raw materials, Mondelez dairy should go for the production process. Here, the Collection of milk should go for pasteurization. Pasteurized milk is one of the food products of Mondelez dairy. This product is a combination of whole milk, skim milk, standardized milk, and various types of cream. Mondelez dairy also has various types of food products. Have a look-
Butter
Cheese
Fresh milk
Ghee
Power milk
Value-added milk
Yogurt
Cadbury dairy milk
Pricing strategies: The producer may apply a number of pricing strategies. For example, the producer may charge a high price for the high quality of a product; others may use a value pricing strategy with a lower price and quality. Besides, everyone doesn't want a higher quality of product and that's why some people will sacrifice some quality for a lower price. Moreover, producer adopts physiological pricing and status promotion encourages customers to purchase goods. Sometimes, food producer also gives price discounts to attract customers. The Mondelez dairy also adopts these pricing strategies.
Price setting of Mondelez dairy: TheMondelez dairy set its price based on its total cost. We know that,
Total cost= total fixed cost +total variable cost.
The fixed cost are- land, equipment, and plant
The variable costs are- labor, cost, marketing cost, promotion cost, transportation, warehousing
After calculating the total cost, they try to keep at least a 7% profit. Then they set their pricing by adding -total cost + 7% profit = selling price
Distribution strategies: Place and transportation are significantly related to the distribution of the product. The producer may go for selling their food products through conventional food stores, selling through online, vending machines, mail or catalogs, home delivery, and door-to-door selling. Besides, there are three principal markets for food processors industrial customers, food service firms, and consumer markets. There are many producers operating their own sales offices and wholesale operations but very few are involved in retailing to consumers.
Resellers: There are two forms of resellers in the supply chain management-
Dealers or wholesalers and Retailers.
After producing any product, the company sells it to dealers or wholesalers.  Then wholesalers sell it to the retailers who bring the product to the final customers.
Activities of wholesalers:
Mondelez dairy has private wholesalers or dealers and independent wholesalers because they add value by doing their tasks. Mondelez dairy sells its final food product to the wholesaler. In this case, the producer makes a profit of 7% from a wholesaler.
After purchasing from producers, wholesalers have some activities that need to complete. These activities are-
Selling and promoting
Buying and assortment building
Bulk breaking
Warehousing
Transportation
Financing
Risk-bearing
Market information
Market services and advice
By doing these activities, the wholesaler needs to bear the cost. In that case, the wholesaler makes a profit of at least 12/15% by selling to the retailers.
Besides, Mondelez dairy has its own dealers who bring their products to the retailers. In that case, dealers reduce the tasks of the wholesaler. Mondelez dairy provides promotion, warehousing, transportation, and financial support to their dealers. These dealers directly sell to the retailers at the company-selected price.
The area of improvement for wholesalers:
At present, wholesalers face some competitive pressure because there are more-demanding customers and new technologies. Besides, there are direct buying programs arranged by large industries. As a result, wholesalers need to adopt better strategies. These may be related to segmentation, targeting, differentiation, positioning, and marketing mix.
See the figure: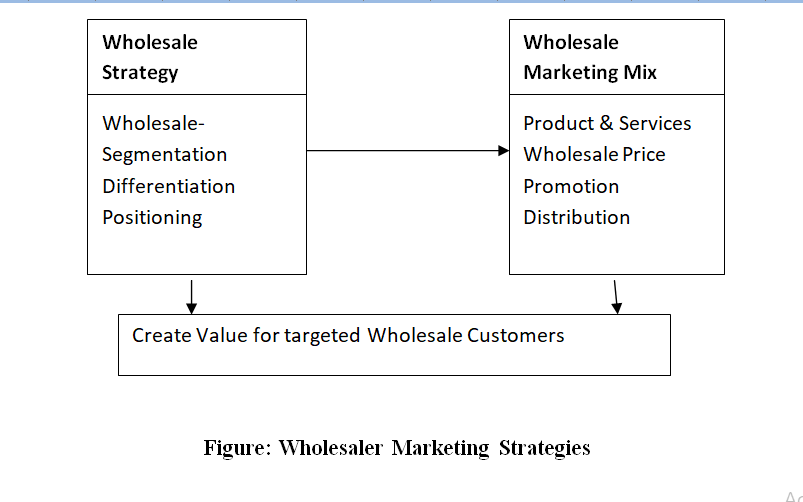 Price setting of wholesaler:
If we look at the price setting of wholesalers, we can see that wholesalers set their pricing by keeping at least 12 or 15 % profit. It means that wholesalers make 12-15% profit from retailers by selling goods. Why do they do that? It is a big question for us. Basically, they do it for several reasons. Have look-
At first, wholesalers buy a bulk amount of goods from producers. Then they need to go for warehousing, transportation, financing, risk bearing, and so on.
The activities of retailers:
Retailers are those who bring a product to the final customers. Because They have a direct connection with the buyers. They buy from the wholesaler and sell to the customer.  Besides, They need to perform some other activities. Like –
Arrange for the assortment of offerings
Breaking quantity
Holding stock
Extending services
The area of improvement for retailers:
They always need to follow the new marketing strategy to attract and hold customers. They always seek unique products and services. At present, so many retailers do the same job. That's why consumers prefer mass-merchandise discount stores, off-price retail stores, specialty stores, and online stores. Today's customers are so smart and price sensitive. They are ready for any identical brands. For all these reasons, retailers need to improve their strategies. These may be related to segmentation, targeting, differentiation, positioning, and marketing mix.
See the below figure: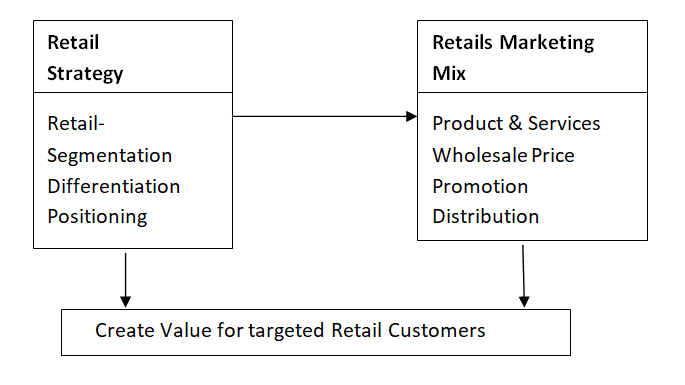 Figure: Retailer Marketing Strategies
Price setting of retailers:
If we look at the price setting of retailers, we can see that retailers set their pricing by keeping at least 20 or 25 %profit. It means that retailers make 20-25% profit from the customer by selling goods. Why do they do that? It is a big question for us. Basically, they do it for several reasons. Have look-
At first, retailers buy a large number of goods from wholesalers. They store or hold these goods until they selling of these goods. To keep these goods, retailers need to bear store rent, workers' salaries, and electricity bills.
Promotional strategies:
Promotion means to remind, inform or persuade. This is the most visible strategy for every company. At this stage, Mondelez obviously goes for the promotion of its product. Milk and dairy products are related to our daily life. So, promotion can make awareness among customers through-
Electronic media (TVs, FM Radio, Facebook, Twitter, Instagram, YouTube, Daily Motion, Pinterest, etc.)
Print media (Newspaper, Magazine, poster, etc.)
Campaigning (School, college, university)
Corporate ads
Customers: Customers are the final user of the product. Customers can buy their necessary goods from retailers. Whatever the producers set their price, consumers are ready to pay this. Because, producers have well information about customers, their taste and preferences, their income, spending patterns, etc.
Management problem of Pran dairy:
Sometimes, Mondelez dairy faces problems in two major areas. Such as – processing operations and buying operations.
At the primary level, Food producer needs to invest a lot in plant and equipment. Because this investment can help them to operate efficiently all over the year. Besides, there is a wide variation of farm product supplies and seasonal variations. One of the main problems is All farm products are perishable.  The food processing cost is not the same all over the year, there is seasonal variability. The producer may face a dilemma in deciding on the number and size of the operations. Besides the labor costs are increasing day by day.
Farm products are mostly purchased by food processors. Their purchasing decisions must consider many marketing decisions. Like – storage, transportation, risk bearing, financing, and market information. There is a big variation in output and prices of farm products that affect the food processors. Food producers may develop better market information and purchasing information.