What is MIS or marketing information systems ?
The full form of MIS is management or marketing information systems. It is the combination of technology, people and business procedures so that the information can store, record to produce further information. Marketing information systems ( MIS ) helps a decisions maker to take a better decision. In short, MIS is the total collections of technology, people & procedure that works together to generate a strategic output. This is very useful for the organizations.
Emergence of MIS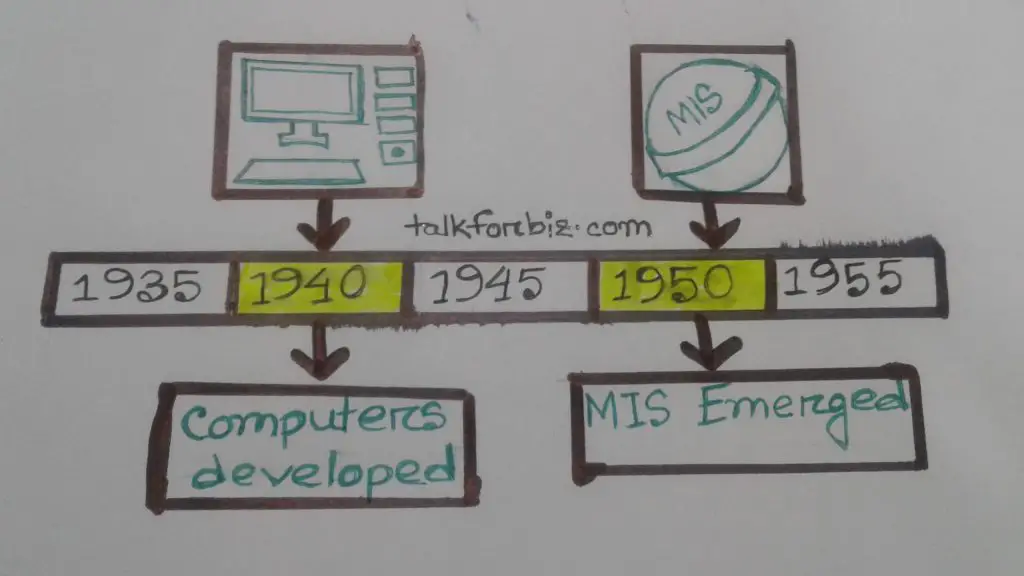 Applications of MIS
There are many applications of marketing information systems ( MIS ). Have a look-
Using a mobile phone: Today, we can't think of a single moment without the mobile phone. Now, a mobile phone is a part and parcel of our life.
Generating electricity bills or water bills: With the help of technology, we can easily pay bills without going to the office and standing in a queue.Such as electricity bill or water bill.
Generating bank statements:
We can easily know our bank statement through internet banking system.But we no need to go Bank physically.
Shopping with a credit card: Now, we can buy anytime through Credit card.A credit card makes our life so easy.Because we no need to carry the cash money in our pocket.
Withdrawing money from an ATM: We can collect money 24 hrs at a day from the ATM booth whenever we need money.
Surfing the internet: The internet gives us a broader level of access all over the world. Today, we can know everything that is happening in the world through internet.
Paying income tax: Paying income tax becomes easier.That means without going to the income tax office we can pay our tax through internet.
Receiving board examination results: Today, the MIS technology helps in to publish the result of any board exams. That's why we are getting our results within a few months.
Reserving a train, bus or air ticket through online: Now, we can reserve our bus, air, and train ticket through online.
 There are some questions often answered by a personal finance MIS. Have a look –
How could I transfer my money to my daughter?
How could I receive my salary?
How could I pay my electricity bills?
What will be my monthly expense?
What is the interest rate on my fixed deposits?
An organizational marketing information systems ( MIS ) also answer some question like-
What are the profit margins of our company?
How many employees we have at this moment?
How many of employee do we need now?
How much we sold last month?
Which products have the lowest demand at present?
What is our operating cost?
What are our actual sales?
Examples of organizational marketing information systems ( MIS )

Patient management systems
Airline reservation & ticketing systems
Financial planning systems
Human resource systems
Store payment & checkout systems
Factory inventory management systems
Bill payment systems
College student information systems