Because of globalization, find a suitable marketplace is so difficult. In this marketplace, selling a product is very easy then to find its target customers. That's why, every company must select the best way to store, handle, moves their product so that they reach their respective customer with a right assortment of product, at the right time, at the right place.
If a company can manage its logistics effectiveness, these companies have a competitive advantage on both customer satisfaction & company cost. Here, I'm going to show you several factors that need to consider.
Nature & importance of logistics management in the supply chain
Goals of the logistics system
Major logistics functions
The need for integrated supply chain management
 Nature & importance of logistics management in the supply chain
Typically some managers think marketing logistics means only trucks & warehouses. But in the present time, logistics is much more than previous. Marketing logistics also are known as physical distribution. It involves-
Planning
Implementing
Controlling the physical flow of goods
Related information from points of origin to point of consumption
To meet customer requirements at a profit
Shortly, it's mainly getting the right product to the right customer in the right place at the right time. In the past time, physical distribution was related to producing product & get its customers at a lower cost. But in the present time, marketing logistics is based on customer-centered. Marketing logistics involves both inbound & outbound & reverse logistics. The total process of this is called supply chain management.
Supply chain management is a process of managing upstream & downstream value-added flow of materials.  It also supplies related information among suppliers, the company, resellers & final consumers.
See the below figure: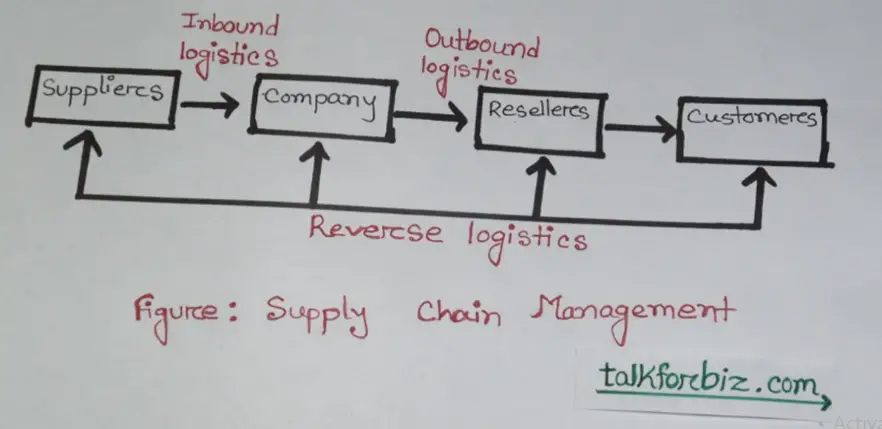 Above figure shows that managers need to coordinate the activities of suppliers, marketers, channel members, purchasing agents, production planning, order taking, inventory management,  warehousing & transportation planning.
There are several reasons for the emphasis on marketing logistics. Let's see-
Get a competitive advantage
Tremendous cost saving both customers & company
Variety of product create the need for customers
Logistics affects the environment & its sustainability
Let's see an example of environmental sustainability.
We all know the brand named SC Johnson. At present, they change their packaging system. The reason behind this is – in the old packaging system, their trucks get filled before reaching its maximum weight limit. To solve this problem, they develop a strategy for mixing up two different product packages at once. Through this, they can send more product than before & it also helps to reduce their more shipment. Now, fewer gallons of diesel fuel is needed that eliminate the greenhouse gases. The manager of S Johnson says that this strategy is not only helped the environment but also saved the company money.
Goals of the logistics system
Some companies set their objectives as to serve the customer at their best but at the least cost. But truly saying, no marketing logistics can both maximize customer satisfaction & minimize distribution cost. Customer satisfaction only comes through-
Rapid delivery
Flexible assortments
Liberal returns policy
Large inventory
Credit service
After sell service
Warranty service
Packaging & many others
But all of this raises distribution costs. In contrast, if your company wants to reduce its distribution cost, then slower delivery, smaller inventory, larger shipping which all effect on the customer's lower satisfaction.
The goal of marketing logistics is to provide a targeted level of customer satisfaction at a lower cost. The company needs to do research about it & find out the importance of various marketing distribution services to customers. The main objective is to make profits, not to sales. Some companies provide higher distribution services & charges higher price.  Some others may provide lower services & lower price.
Major logistics functions
Companies always want to reduce its cost. They also want to attain their goals with lower cost. The major logistics functions are-
Warehousing: Production & consumption don't match at the same time. So companies need to wait until products are sold. So they need a store to keep their product safe.
For example, Snapper, Toro, & other lawn mower producers run their business all year long. Their product buying seasons is summer & spring. So the producer produces its product & store for selling in the buying seasons. As like winter clothes producer, produces their product but this product is only sold in winter.  So all the year what should they keep their products?  To keep their products, they need a place to store.  This place is called the warehouse.
Inventory management: Inventory management always affects both customer satisfaction & the company's image. Managers need to manage their inventory so effectively. Because carrying too many inventory & carrying too little both will affect the company's image. Having too little inventory, the manager may not provide the needs of the customer when they want to buy. To remedy this problem, the company needs to costly emergency shipments or production to meet the needs of customers.
Transportation: Transportation is the most effective function of logistics. This function affects the pricing of products, delivery performance, conditions of the goods when they arrive.
All this also affect customer satisfaction. The company mainly chooses five major modes of transportation.
Trucks
Railroads
Water carriers
Air carriers
Internet carriers
4. Logistics information management: companies need information to manage their supply chain. In the logistics perspective, all the information about the customer like billing, shipment, inventory level, transactions & even customer data is closely related to channel performance. Companies need accurate information for capturing, processing & sharing channel information.
There're many ways like-EDI (electronic data interchange) link, which is mostly used for sharing information. It is the digital exchange of data between the channel & company. Another way is VMI (vendor management inventory), which is used for knowing the real-time data on sales & current inventory levels with the supplier.
 At present, more & more companies are very conscious of the integrated logistics management concept. This concept emphasizes teamwork.  This teamwork may be both inside the company & among the marketing channel members. They mainly do that to maximize the performance of the entire distribution system. Inside the company, various departments should work closely together to maximize their own logistics performance. In the outside of the company, the effective channel members should work their best to maximize the performance of the entire distribution network.