Wholesaling
Wholesaling is a process in which all the activities are involved in selling goods & services for those who buy these for resale or business use.
Wholesaler
A person who engaged in wholesaling business is known as the wholesaler. Wholesaler often buys goods & services from producer & resale these retailers, industrial consumers & other wholesalers. As a result, wholesalers are often unknown to final consumers. For example: You may never know who the suppliers of Samsung are. Let's check – Different channel design decisions in marketing
There're several factors that made wholesaler very important to sellers. Wholesaler adds value by performing some tasks. There're –
Wholesalers help manufacturers to reach the final consumer.  They sell producer's product to buyers & persuade them to buy this product.
 Buying & assortment building
They buy the big assortment of product, divided them into small assortment & provide customer according to their demand.
Wholesalers buy large quantities of product & breaking then into small quantities, thus they save the consumer money.
Wholesalers have their own warehouse. In this warehouse, they keep their products.
They maintain quick delivery to buyers. They're close to the buyer than producers.
Wholesalers provide financial support to the buyers by giving credit.
Wholesalers take the risk by taking title & bearing the cost of theft, damages.
They give information to the suppliers & customers about their new products, price development & competitors.
Management services & advice
They provide after-sales services, offer warranty, credit etc.
Types of wholesalers
There're four types of wholesalers.
1.Merchant wholesaler: Merchant wholesaler is an independently owned wholesale business. He takes title to the merchandise.
2.Broker: a Broker is a person who does not take the title of the product. He only brings the buyers & sellers together & helping in negotiation.
 3.Agent: An agent is a representative of buyers or sellers. He works on a permanent basis & performs only a few functions.
 4.Manufacturer's sales branches & offices: Here, sellers or buyers involve individual alone with manufacturers rather than through wholesalers.
Wholesaler marketing decisions
Wholesalers also face growing competitive pressures, new technologies, more demand, direct buying facilities, retail buyers. As a result, wholesaler needs to adopt some strategies & effective marketing decisions. Along with this, enhance yourself on – Channel Management decisions.
See the below figure: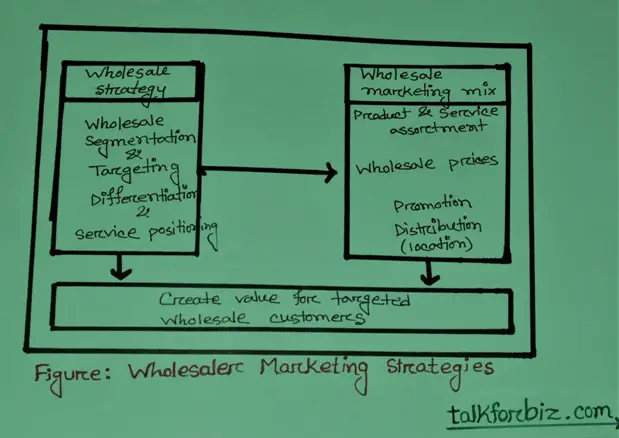 Segmentation, targeting, differentiation & positioning decisions
Like other businessman, wholesalers also divide their market segment, define their target segment & effectively differentiate & position it. It's true that wholesaler can't serve everyone. They can choose a target segment to serve by the group of customers, types of customer, customers need, want & demand. Within their target customer, the wholesaler can make more profit.
Marketing mix decisions
Like other business, wholesalers also adopt marketing mix decisions. They must decide on their product & services, prices, promotional activities & convenience place. They try to delivered customer value. Gather knowledge on – integrated marketing communications program.
Setting price is also an important decision for the wholesaler. If they set fewer prices than others, they may fall into losses. Promotion in wholesaling business is very critical. Maximum wholesalers aren't interested in adopting promotional activities. Distribution is very important for the wholesaler. They need to select a convenient place where the entire customer can easily visit.