The company and marketing managers are really very concern about the marketing strategy for a new product. However,  a proper marketing strategy can bring both effectiveness and efficiency in the business specially for the business which are located in small or big city in USA .
In the case of the marketing strategy for a new product, the market segmentation comes first after selecting one's niche.
Market segmentation is the aggregating form of prospective buyers into groups or segments. Besides, they have common needs and respond similarly to a marketing action. However,  It enables companies to target different categories of consumers who perceive the full value of certain products and services differently from one another.
Different kinds of market segmentation for a new product are discussed below:
Geographic segmentation
A new product has no specific geographic target area in a country. However,  the company prefers both the urban area and rural area. It would be very suitable. According to the weather condition and climate, people can use it in all area in the country
Demographic segmentation
All classes of people may consume them. Male, female, young people can be able to use it. Besides, Teenagers and women are major concerning the customer.  Besides, People who are involved in earning and lead a prosperous life also our concerning customer.
Behavioral segmentation
Young people will consume our product most. Besides, Old, as well as mature people, will also like this product.
Psychographic Segmentation
Psychographic segmentation is dividing the market based upon consumer personality traits, values, attitudes, interests, and lifestyles. This segmentation allows the development and marketing of the products because there will be a more precise match between the product and each segment's needs and wants.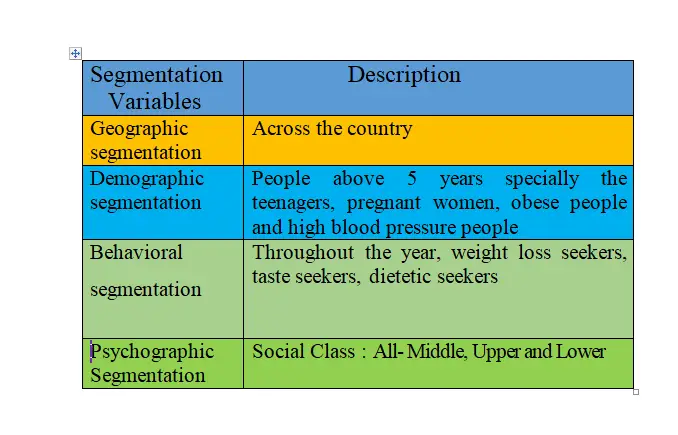 After segmenting, the company evaluates all segments attractiveness. Then they decide a few segments market to enter. They are:
1) Teenagers girls
2) Obese people
3) High blood pressure people
Market coverage strategy for a new product
As the company targets some segments for their product, so they will follow differentiated marketing. However, It is a market coverage strategy in which a firm decides to target several market segments and designs separate offers for each.
Differentiation and positioning
The company tries to maintain product differentiation. That's why, they will use the logo and short advertisement so the product will occupy a clear, distinctive and desirable place in the mind of the consumer relative to competitors' product. Besides, they will use USP (unique selling proposition) for this product. However, To do brand differences those make a better differentiation. Or that has the potential to create company cost as well as a customer benefit. Moreover, a difference is worth establishing to the extent that satisfies the following criteria
*important
*distinctive
*superior
*communicable
*affordable and
*profitable
The marketing mix is the total controllable element that a company
Product Marketing
For launching a product in the market, there is some procedure that should be followed by every marketer to move in the long run. The product will enable our customers to have a different experience to try the new product. Besides, they will be able to differentiate their product in quality which is unique in the Refreshing market. However,  they will not be able to feel the same way for the other refreshing water in the market. This is one of the marketing strategies for a new product.
Product
The new product has come with the following variations in the market-
250 ml bottle
300 ml can
500 ml bottle
1000 ml or 1-liter bottle
Moreover, The new product has been made with the proper technology. So there is no chance to occur fluctuation in taste. Besides, The product contains a very strong taste which can compete with the market leader
Price
The three different sizes of a new product have been priced differently.
250 ml bottle = $5
300 ml can = $10(youth pack)
500 ml bottle =$15
1 liter bottle = $20
250 ml can = $5. Here wholesalers take $0.5 -$1.5 and retailers take $2.00-$2.5  as profit. Again comparing to the competitor's product, the price is low enough to encourage the target market to shift their brands toward
Promotion
The new product has been targeted for the young generation is designed for fun-loving young adults, pregnant women, obese people, and high blood pressure people.
Television,
Newspaper,
FM Radia or Radio
Poster, shop signs & Billboards,
Street/road Show & Concerts All are used for promoting a new product
Sponsorship of different special event such as a reunion,
Besides, Free sampling of the new product will do in many Universities as operant conditioning to motivate the people to make the second purchase.
Moreover, The product will also go for an innovative idea which will create a big attraction to the target customers.
Place (Distribution channel)
The company has a vast distribution channel. Besides,  They will maintain different types of distribution channel for different products.
As the new product is like a convenient good, the company will go for intensive marketing for this product. Besides, they will distribute it through the authorized dealers of our target market, who will sell it to as much retailer as they can. However, this distribution policy will help to make our product available everywhere in our target market.
So, we learn the marketing strategy for a new product.