In this article you will learn what is digital advertising and it's importance. We will also learn Why our organic product brand should use to with digital advertising ?
The organic industry is experiencing tremendous growth as a result of the rising popularity of organic and all-natural products. As a result, the need for organic products' marketing and advertising to stand out is increasing as well. As a result of the recent pandemic, people are becoming more concerned about their health. They want the best for themselves and their loved ones.
As a result, organic product markets are becoming increasingly popular, and it is imperative for brands to be heard above the noise and establish themselves as the best organic brand in their market. Digital advertising is a great way to build trust, build familiarity, and capture market share. Here, we'll use digital advertising for the organic products.
Increasingly, all of our customers are searching for brands that offer services online, and they're 
particularly interested in those that do so. It's possible to think of our advertising as a communication 
process that takes place across multiple platforms in order to connect with our customers. Because of this, we need 
digital advertising in order to get our message out to our target audience. 
Here are a few reasons why our organic product brand should use to with digital advertising:
1. Makes Life Easier and More Convenient.
Ads can be used to simultaneously reach our prospects across all digital platforms. Additionally, if we need to make changes to our advertising campaigns, we can do so immediately. Traditional advertising cannot accomplish this. We can reach our customers where they are, catch their attention and convince them to buy our products with proper planning and strategy.
2. Brand Awareness is raised.
With today's advancements in the online world, obtaining information has never been easier. It's no secret that people are always on the lookout for new places to get their daily fix of online information. In addition, digital advertising for organic products will help our customers learn more about organic products and organic farming, which will benefit our company. More attention and assistance are required for the commercialization of this type of farming.
It's important that our ads have the ability to pique the interest of our target audience and turn them into potential customers. Customers who come to our websites via advertising should be able to grasp the importance of organic products and the methods used to produce them.
3. Introduces Organic India to a Worldwide Audience
Nowadays, customers expect to know everything there is to know about the products they intend to purchase particularly organic products. They want to be well-informed before making a purchase, so they research the product thoroughly.
4. Ad Format Experimentation Is Made Easy
Using online platforms for advertising isn't just a simple rehash of traditional advertising methods. Nowadays, we can advertise in a variety of ways to reach our target audience.
There are a lot of people around the world who can see our ad if we use digital advertising. If we're promoting a new line of organic products, for example, we might send out an advertisement. Our brand and products will be noticed by people all over the world who are using online platforms to communicate. So we can improve our customer relationships and grow our clientele. In the business world, advertising is a quick and efficient way to get our message in front of potential customers. Using online platforms for advertising isn't just a simple rehash of traditional advertising methods. Nowadays, we can advertise in a variety of ways to reach our target audience.
5. Reaching Your Ideal Clients
Digital advertising allows us to target our customers based on their interests. The people we're trying to reach with our advertising are known as our "target audience. To better target our advertising, we can group our customers based on factors such as their geographic location, gender, age, and other relevant demographics. Digital advertising is one of the best global advertising strategy.
6. Provides us With Useful Information.
With digital advertising, it's easy to keep tabs on how well our ads are doing. We can see how many likes, shares, and comments our ad received by looking at the number of people who saw it. As an example, if we advertise our organic vegetables at a reduced price, we may see a decrease in sales. This could be due to the fact that our customers either didn't see our ad or didn't like or understand it. In order to improve our advertising, we need to know what we are doing right and what isn't working. On the internet, we can also get feedback from our customers in order to learn about their preferences and make ads that they will enjoy in the future.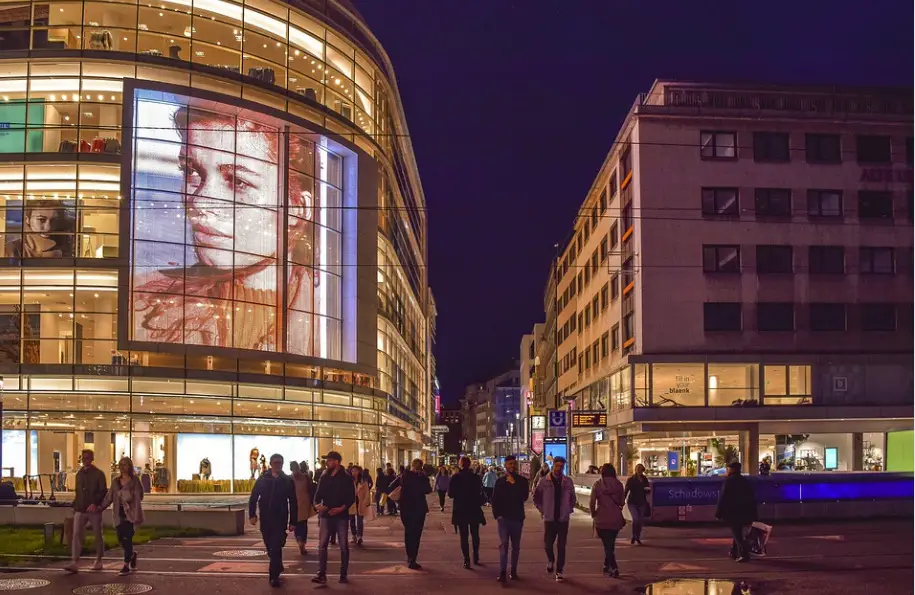 Organic products industry can benefit from using the following four types of digital advertising:
1. Ads for Organic Products on Amazon
The first place a customer turns to these days when they need to make a purchase is Amazon. When customers conduct a search for a product closely related to ours on Amazon, our ads are more likely to be displayed. Amazon customers will be able to see our brand and products in some of the most prominent search results. Our customers can purchase our product directly from our website with a single click of the ads
Aside from that, Amazon ads may also appear on specific product pages. As a result, your brands will be seen by a large audience.
2. Ads for Organic Products Displayed
Display ads are a great way to spread the word about our brand, encourage customers to visit our website, and provide them with additional details about our organic products, the ingredients we use, and so on.
To get our customers to click on our ads, we can use a variety of media, including images, text, and video. The ability to place display ads virtually anywhere and the likelihood that our customers will see them multiple times a day help brands stay top-of-mind with their target audience. We can use this ad to better target our customers and measure the analytics.
3. Ads for Organic Products Using Native Ads
We've all seen native ads on social media at some point. When we scroll through our social media feeds, we'll see these advertisements. They don't look like ads at all, in contrast to standard banner ads. Our social media channels will look more like a post if we use these templates. These are the characteristics that make native advertisements difficult to identify, and we can use them to draw customers to our organic products.
This makes it easier to draw in new customers. There is a direct link to the brand's profile or website after we click on ads.
4. Organic Product Ads on Social Media
Everyone has a social media account nowadays. To stay in touch, everyone uses social media. We can use –
Facebook ads
Instragam ads
Snapchat ads
Pinterest ads
Advertisers like online advertising because one medias are very popular now a days.
Public relation and publicity
The Organic product industry is maintaining a positive image and developing beneficial relationships between the  organization and their  public communities, groups, and people it serves is achieved through the use of Public Relations (PR). As a result, they employ sponsored advertising in an effort to build positive perceptions of themselves.
Public relations are not a cost-free method of marketing. It necessitates the payment of wages to those who plan and implement public relations campaigns. PR-related activities such as sponsorships and event costs are also included.
Aims of Public Relations:
Maintain a positive image in the minds of their customers
Educate potential customers on the benefits of their product, service, brand, or organization.
Develop and maintain positive working relationships with key opinion leaders.
Goodwill among consumers, media, and other target audiences through enhancing the organization's visibility
Stimulate demand for a product, service, idea, or organization
 Head off negative media coverage
SWOT analysis of organic India
Strength
Weakness
Uniqueness
Made for contiguous
Highly demand
Good distribution system
Eco friendly nature        
Seasonality
Not widely available
Storage and transportation
Construction time
Perishability of products
Higher price  
Opportunity
Threat
Customer loyalty
Changing customer change
Growing  prosperity concern
Growing natural concern
Fast lifting of market
Certification issue
Adverse weather conditions
Competition
Price fluctuation
Input supply
Table: SWOT analysis of organic India
however, at the end . these are the effective Global advertising Strategy for Marketers that we discussed above. hope that this will help for you and your industry.