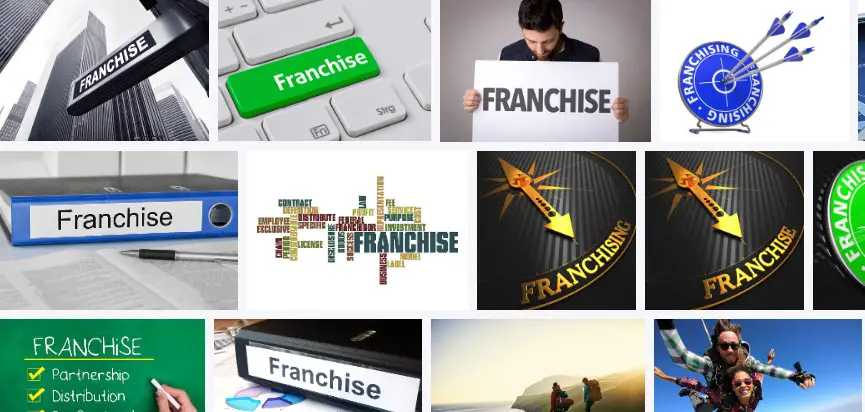 What is franchise marketing?
Franchise marketing refers to the strategies employed by franchisors and franchisees to build the brand and bring in repeat business. Two goals can be met with this form of advertising. Initially, there is the action of locating prospective franchisees. However, it is also a means via which locals might discover your company is marketing a franchise.
Types of franchise marketing
Any effort made to expand your franchise is considered marketing. OK, here's how to dissect it:
You and your franchisee will both engage in operational franchise marketing to grow your business. This may include paid search (PPC) advertising, social media marketing, email marketing, and the optimization of your website for search engines. Take some – Glowforge business ideas.
What the franchise owner does to bring in new franchisees and expand the business is known as "franchise development marketing."
Ideas and tips for your franchise marketing plan
Let's check some Ideas and tips for your franchise marketing plan –
First, establish unambiguous brand standards.
Brand standards that are both detailed and concise form the backbone of each successful marketing campaign. This will be included in the larger franchise manual. It ought to be crystal obvious and simple to grasp. A comprehensive set of brand rules will cover a number of topics. Create an overview of your brand first. Your goals, principles, and background all make up these elements. Franchisees should be able to get a solid feel for the brand through this. Explore more on – Digital Marketing White Paper
To advertise via social media
The use of social media in advertising is essential. Building brand recognition and luring qualified franchisees calls for an active online presence, where you can interact with customers and showcase your business. You can manage your brand's reputation, respond to customers, and address issues directly through your social media channels.
Make use of content marketing
The marketing strategy would be incomplete without content marketing. Content marketing is essential, regardless of whether you're producing films, blogs, podcasts, or infographics. In addition to establishing your business as an industry thought leader, content also benefits customers by adding value to their lives and enhancing their overall shopping experience.
Employ regional search engine optimization
The success of your franchisees depends heavily on their ability to engage in effective local marketing. It is expected that the local franchise marketing strategy will be integrated into the larger firm's marketing plan. Franchisees' success on a local level directly correlates to your own, therefore it's crucial that you equip them with the tools they need to thrive.
Recognize your intended readership
Because of the dual nature of your marketing, you reach two distinct groups of people. So, you have your clientele, which in turn may be segmented into several personas based on demographics and other factors. Knowing your target audience is a crucial step in developing a successful marketing strategy. Moreover, learning blockchain business development will add some extra benefits for you.
Incorporate Online Paid Advertising
Franchises can benefit from a wide variety of sponsored promotional channels. Online, there is a plethora of options for getting your message in front of the right people through paid advertising and marketing strategies, such as those found on social media. Pay-per-click (PPC) advertising can be used on both a local and national scale, with results varying by area, brand, and other factors.
Remember the power of snail letter
Direct mail is effective for some organizations and industries despite the time and effort required by digital marketing. Companies big and small, well-known and lesser-known have found success with direct mail. First and foremost, direct mail is an effective tool for narrowing your focus on a specific demographic of customers.
Customize and automate your marketing strategies
There are several positive outcomes that may be achieved through the combination of personalization and automation in the field of marketing. Both are necessary to lay the groundwork for an effective marketing strategy. In the twenty-first century, automation has been widely adopted.
Share the back story of your company
A compelling tale is a must-have for any marketing strategy. It's an effective way to demonstrate your sincerity and openness to the listener. Trust and recognition for the brand are greatly aided by this. You want your clients to choose you for more than simply the price, of course. Your goal is to convince them to pick you because of your background and motivations.
  Franchise marketing agency
Franchise marketing agencies employ both traditional and online channels to aid business expansion for franchisees.
They aid in establishing trust in the franchise's name among consumers and business owners.
The majority of the work associated with creating and implementing a successful marketing strategy for your franchise can be handled by a franchise marketing firm. Producing content, marketing materials, social media posts, and email campaigns fall under this category.
Let's take a look at the top five reasons why you should use a franchise marketing agency.
Consult with experts in the field of marketing
Make use of seasoned professionals who are familiar with franchise problems
Find fresh ways to expand your business
Get assistance when creating your franchise.
Make good use of social media platforms
How much does a vintage market days franchise cost?
More than 150 merchants sell "vintage-inspired" things at the upmarket Vintage Market Days outdoor market. Three times a year, in different cities across the United States, Vintage Market Days host a festival that lasts for three days. Those looking to support local creators and shop from skilled vintage sellers will like this event. Vintage Market Days is a one-stop shop for all your shopping needs, from clothing and accessories to home furnishings. This is a one-of-a-kind market with options for everyone.
Additionally, OKC is the birthplace of Vintage Market Days, which began in 2010. The company's market presence has grown considerably since then, reaching towns and cities across the United States. The marketplace was designed for fashion-conscious shoppers. The vendors at Vintage Market Days only sell goods that they have personally chosen. That way, you can rest assured that everything at the market is one of a kind.
| | |
| --- | --- |
| Questions | Answer |
| When will you be able to visit the Vintage Market Days headquarters?   | The main office for Vintage Market Days can be found at 1301 N.w. Central Ave, Amite, LA 70422, USA.   |
| What is the contact information for Vintage Market Days?   | The number to call for Vintage Market Days is (985) 401-1950.   |
| Do you know the address of the Vintage Market Days' main page?   | Visit www.vintagemarketdays.com for the official Vintage Market Days website.   |
| How much money do Vintage Market Days make?   | Profit for Vintage Market Days is in the $5 million range.   |
| What other similar events compete with Vintage Market Days?   | Some of Vintage Market Days' key rivals are Cool Gift Box Ltd, Future Memories Inc, Branson Market Days LLC, and ArtQuest Gallery.   |
| How many different types of software do Vintage Market Days use?   | When it comes to technology, Vintage Market Days uses: Cloudflare DNS, G Suite for Business, Cloudflare Security, and the Facebook Workplace   |
| Does anyone know the SIC code for Vintage Market Days?   | There is a 59,593 SIC code for Vintage Market Days.   |
| Does anyone know the NAICS code for Vintage Market Days?   | The North American Industry Classification System code for Vintage Market Days is 45,453.   |
| Who makes up the target market for Vintage Market Days and what do they do?   | Auctioneering & Retailing are two of Vintage Market Days' primary areas of expertise.   |
| To what extent do Vintage Market Days rely on its staff?   | A total of 25 people work for Vintage Market Days.   |
Is the Boston market a franchise?
In the United States, Boston Market does not provide franchise options for owning and operating Boston Market restaurants at this time. To be sure, we don't have any franchise agreements available just yet, but we might in the future if we decide to launch a franchise program.
Boston Market has been serving up fresh, delicious home-style meals including our juicy, all-natural rotisserie chicken for over 30 years, and if a franchise program is established, it will give people the chance to own a piece of that history. At that time, we may explore granting franchise agreements for new restaurant locations in select existing areas, prospective markets, and unique venue locations including airports, university dining halls, and other similar establishments. We'll be on the lookout for folks who share our love of Boston Market and are excited by the prospect of running a fast-casual eatery with the goal of producing high-quality dishes that can be served swiftly and with a smile.
How much does a Boston market franchise cost?
Boston Market is trying to grow through franchises in nontraditional areas like airports, hospitals, hotels, and college campuses. At this time, Boston Market is not offering franchises for its standard restaurant formats. A Boston Market franchise can be purchased for an estimated $125,000.how much is a Boston market franchise
Franchise marketing management
By "franchise marketing management," we mean the joint effort by a franchise's parent company and its individual franchisees to raise the brand's profile in the marketplace and bring in more money. In recent years, digital marketing has replaced traditional methods of advertising for franchises in nearly every way.
Franchise marketing strategy
For businesses, franchising is a tried-and-true method of expanding their consumer base and strengthening their brand loyalty. For both present and potential clients, a system like this would help to establish the company's name.
Franchising can be conceptualized as a strategic alliance, a network of interdependent relationships wherein all parties involved reap the benefits of widespread consumer recognition of a trademarked product or service, the efficiency of a tried and true production and distribution model, and the pooling of resources. Companies that offer franchises have an advantage over newer brands in that they already have a "well-known" reputation. How, therefore, does one go about promoting a franchise effectively?
Franchise Digital Marketing
Franchisees and their staff are aware that with the franchise model's meteoric rise in popularity comes a corresponding rise in the number of competitors in digital marketing franchises. That's why it's more important than ever to have a solid strategy in place for promoting your franchise. The difference between success and failure in business often hinges on how well the owner keeps up with digital marketing trends. However, check – Digital marketing for construction site
Use a unified, multi-channel strategy
You want the whole of your franchise advertising strategy to be bigger than the sum of its parts. Effective communication is the key to maintaining unity.
Whether you handle your marketing in-house or outsource it to an agency, it's best if everyone is on the same page as far as campaigns and overall objectives are concerned. Learn more on – High ticket digital marketing
Focus on local search engine optimization second.
Having a Google Business Profile for each of your locations that is complete, accurate, and optimized is a great first step in improving your local SEO.
Because of the possible changes in business hours and other details brought on by the epidemic, it's important to verify that all local directory listings contain the most recent information. Additionally, you may improve your local SEO by • Making your site mobile-friendly • Having a sitemap • Completing your Google Business Profile • Doing all you can to (ethically) foster consumer reviews • Optimizing your website and landing pages with geo-specific keywords. Explore – Interoperability in digital marketing
 If you want to get ahead of the competition, look into geofencing.
Although geofencing is one of the more recent forms of digital marketing to emerge, it is quickly gaining in popularity. Ads, discounts, and other notifications are sent to users based on their position within a "geofenced" area using their smartphones' GPS, WiFi, or cellular data. Explore more on – Business continuity strategy
The downside is the price, but this is a fantastic tool for hyper-targeting. You can use it to reach people who are already in the market for a franchise like yours but are visiting a competitor's store.
Take advantage of advertising to emphasize your unique selling proposition.
Whether it's paid search, social media, display, or a combination of these, digital advertising is a staple of modern franchise promotion.
In general, paid advertisements are a potent method of spreading the word about recent updates and changes and drawing attention to your unique selling points. Gather knowledge of – Job duties for digital marketing as an instructor
Learn to weigh the importance of scale with that of local experience.
When developing and perfecting their digital marketing strategy, franchises face the challenge of striking a balance between a national perspective and local activities. Your brand's expansion and success depend on collective national thinking.
Inspire people to care about your brand by sharing its narrative
Competition from establishments with a more "local" vibe can be tough for franchisees with several locations. This is where the back story of your brand comes in. Empathy can be cultivated through sharing the company's back story, values, and mission statement.
Customers are more likely to stick with a company if they feel like they share common beliefs with it. One method is to put the spotlight on the individuals who make your company what it is.
Seventh, demonstrate your interest in your consumers' opinions.
In what additional ways can you strengthen your relationship with your clientele? Get them to feel like they're being heard. Listening to your customers is important for more reasons than just maintaining a positive public image for your company.
Beginning with a basic comment box is a terrific way to get people talking about your blog. You can reuse compliments by highlighting them in social media posts. The feedback process can also be greatly aided by using social media.
Maintain a clear picture of your ideal customer in your head at all times.
If you're having trouble reaching your target audience despite taking these steps, you may need to rethink your approach to targeting. Remember that everything in your marketing materials, from commercials to social media posts, should be tailored to appeal to your ideal customer (ICP).
Of course, as a franchise, you can't use a cookie-cutter approach to your franchising marketing. You should give more consideration to regional targeting options (which will vary by platform).